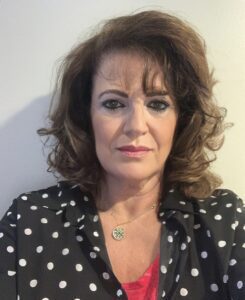 To honor the life and legacy of Broadway legend Rebecca Luker, who passed from ALS in December 2020, the Target ALS Rebecca Luker Courage Award is given to those who have demonstrated a courageous spirit and made a positive impact on the ALS community. The awards are presented in partnership with Mitsubishi Tanabe Pharma Corporation. A selection committee made up of notable Broadway performers and ALS researchers reviewed the nominees for the award based on predetermined selection criteria, including their innovation, collaboration, impact, and reach within the ALS community.
Joumana Baroody is a Registered Nurse with extensive experience in ALS healthcare and caregiver management who currently serves as the Director of Care Services for the ALS Association (ALSA), Greater Chicago Chapter. Prior to her role at ALSA, she spent 9 years as the Neuromuscular Clinic Coordinator at the University of Chicago Medicine. 
Joumana was nominated for the Rebecca Luker Courage Award by Dr. Raymond Roos, a colleague who describes her as an essential asset to the ALSA's Greater Chicago Chapter for her efforts in supporting patients with ALS and their loved ones. 
Dr. Roos says, "Joumana is the person with ALL the answers. She is known not only by the patients but by their relatives and caregivers."
A Passion for ALS Support and Advocacy
Though Joumana is no longer a practicing nurse, she uses her nursing background to address situations that arise in her current position as the Director of Care Services for ALSA. Nurses play a critical role in supporting and advocating for patients with ALS and their families. They can serve as sources of comfort and provide answers when new information is overwhelming or difficult to understand. Joumana's nursing perspective and knowledge of ALS allows her to better help those affected by the disease.
Joumana cares tirelessly for ALS patients who are seen in multiple clinics in Chicago, including those at Rush University, University of Illinois, Loyola, and Northshore Hospital. She frequently adapts the offerings of ALSA's Greater Chicago Chapter based on patient and caregiver needs and has organized and led conferences for ALS patients in the area.
What sets Joumana apart is her ability to make patients feel happy. And her impact is far-reaching; patients have sought her services from throughout Illinois, Wisconsin, Indiana, and overseas.
Empathy for ALS Caregiver Needs
As the Director of Care Services, Joumana noticed a common thread among caregivers of those diagnosed with ALS: confusion about the types of equipment needed for patients. In response, Joumana created the Caregiver Boot Camp, a four-hour intensive training session about how to use supportive devices and equipment, and how to provide basic home care.
Additionally, there is an Advanced ALS Caregiver Boot Camp held virtually to discuss the advanced care needs associated with the later stages of the disease. At this Boot Camp, Joumana and her team address topics including caring for someone losing mobility or communication abilities, nutrition options for those who cannot eat, breathing support and ventilation options, knowing when to transition to hospice, and difficulties of bereavement. 
This advanced class was developed after caregivers who attended the original boot camp requested high-level discussion about some of the difficult situations caregivers find themselves in. That fueled Joumana's desire to adjust the offerings of the Association as needed by the patients and their families involved in the Greater Chicago Chapter.
In her role, Joumana organizes a clinic team that includes a swallowing expert, PT, OT, and speech expert. She is involved with patients directly in the clinic, and in some cases, makes home visits. For her, the most important aspect of her position is to speak up on behalf of those who can't speak for themselves.
It's this motivation for advocacy that she instills in the members of the teams she manages.
​​"We keep quotes from the people we serve," said Joumana. "They're kept in a folder and we share them with the entire chapter staff to remind us all of what we do every day and why."
Joumana is experienced in the needs of ALS patients and their loved ones–both physical and psychological. She uses this experience to educate her staff on best practices and employing empathy for those they provide services for. 
Joumana takes time every day to advocate for ALS patients and their families and is clearly deserving of the Target ALS Rebecca Luker Courage Unsung Hero Award.
This article is based on the incredible Courage Award nomination submitted on behalf of Joumana Baroody by her colleague, Dr. Raymond Roos.