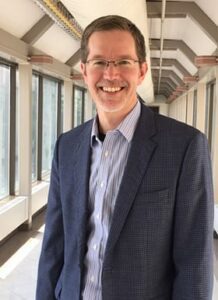 To honor the life and legacy of Broadway legend Rebecca Luker, who passed from ALS in December 2020, the Target ALS Rebecca Luker Courage Award is given to those who have demonstrated a courageous spirit and made a positive impact on the ALS community. The awards are presented in partnership with Mitsubishi Tanabe Pharma Corporation. A selection committee made up of notable Broadway performers and ALS researchers reviewed the nominees for the award based on predetermined selection criteria, including their innovation, collaboration, impact, and reach within the ALS community.
From the beginning of his career, Dr. Timothy Miller has been innovating ways to treat, prevent, and cure ALS. In fact, his research began while he was earning his medical degree and Ph.D. at the Washington University School of Medicine. It was there that Dr. Miller discovered his interest in the science of neurodegeneration.
After completing his residency at the University of California, San Francisco, Dr. Miller completed a neuromuscular fellowship under the mentorship of an ALS expert. It was during this fellowship that Dr. Miller became intrigued with clinical research. His next move was to the University of California, San Diego's Mentored Scientist Clinical Training Program, where he completed his postdoctoral work on ALS disease models. 
Forging a Path Toward Safer ALS Trials
Dr. Miller completed the rare task of taking an idea from his post-doctoral research and transforming it into a therapeutic. His sentinel study in 2006 treated ALS protein SOD1 in mice with antisense oligonucleotides (ASOs). Most academic research stops there, at the preclinical stage. However, after years of work, Dr. Miller designed more effective ASOs, developed in vivo kinetic assays to measure drug efficacy, and performed a natural history study of SOD1 ALS patients. Dr. Miller began this program as a postdoc candidate, continued it in his early academic career, and is now a leader in the ALS field. 
Moving a preclinical idea, such as ASO therapy, into a clinical trial is a major achievement. Few researchers have the tenacity, forethought, and vision to do this. Dr. Miller is one of those researchers.
Dr. Miller's studies and subsequent clinical trials set the basis for all future ASO therapeutics in ALS. Additionally, his pre-clinical studies laid the framework for further ASO trials related to CNS diseases, such as Huntington's disease and Frontotemporal dementia (FTD). 
An ALS Researcher and Inspiring Mentor
Dr. Miller has continued to mentor and train physician-scientists to treat ALS. In fact, he frequently says his goal "is to get everyone I talk to interested in studying ALS." This has led to multiple collaborations within academia and industry partners.
Currently, Dr. Miller holds a prestigious position as the David Clayson Professor of Neurology at Washington University School of Medicine in St. Louis. This professorship was established in 2001 to support innovative research into treatments for ALS. Along with this position, Dr. Miller leads the Miller Laboratory and the ALS Center. He directs research into innovative treatments, with a focus on therapeutic strategies that turn off harmful genes in the brain and spinal cord in patients with neurodegenerative diseases.
"Dr. Miller excels at finding ways to apply the latest techniques for modifying biological systems to the challenges of treating ALS and other disorders that have long resisted our attempts to stop them," says David Holtzman, MD, the head of the Department of Neurology at WUSTL.
Dr. Miller's advancements in trials have affected all ALS patients and future studies related to CNS diseases.
This article is based on the incredible Courage Award nomination submitted on behalf of Timothy Miller by his colleague, Conrad Weihl.