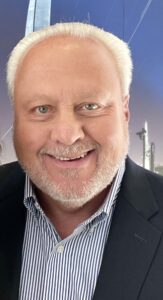 To honor the life and legacy of Broadway legend Rebecca Luker, who passed from ALS in December 2020, the Target ALS Rebecca Luker Courage Award is given to those who have demonstrated a courageous spirit and made a positive impact on the ALS community. The awards are presented in partnership with Mitsubishi Tanabe Pharma Corporation. A selection committee made up of notable Broadway performers and ALS researchers reviewed the nominees for the award based on predetermined selection criteria, including their innovation, collaboration, impact, and reach within the ALS community.
The world of philanthropy requires individuals who are willing to go the extra mile to make a difference in the lives of others. For Mark Calmes, philanthropy is based on finding innovative solutions to his community's most pressing problems.
Mark's wife, Jane Calmes, was diagnosed with ALS in 2009 – shortly after, Mark became involved with the ALS Association. Serving as a 24-hour caregiver and working full time didn't provide Mark with time for much else, but he somehow added philanthropy to the top of his priorities.
In his own words, Mark says "Philanthropy is not just the check-writing kind, but the kind where an investment of heart and soul into advocacy for people and causes truly makes a difference."
Walking to Defeat ALS
Not long after Jane's ALS diagnosis, Mark formed a team of family members to participate in the Walk To Defeat ALS®. Over the past 12 years, Team Jane's Angels has been a key fundraiser for the Springfield, Illinois Walk, with donations totaling nearly $845,000.
Over the past 11 years, as the Team Captain of Jane's Angels, Mark has been prolific in mobilizing a 100+ person brigade, which has greatly contributed to the team's ongoing success and leadership. Sadly, Jane passed away on August 16, 2017, but Mark, his children, and his grandchildren continue with the legacy of Team Jane's Angels.
Mark's involvement with the Walk To Defeat ALS® provided a gateway to a partnership with The ALS Association that has led to the creation of even more opportunities for ALS advocacy.
Creating The Jane Calmes ALS Scholarship Fund
Mark's volunteerism does not stop with the Walk to Defeat ALS. In 2015, he became a member of the ALS Association National Board of Trustees, and joined the St. Louis Regional Chapter Board of Directors in 2019. As a Trustee, he serves as Chair of the Governance Committee, and is a member of the Executive Committee and Care Services and Development Committees. He has held the roles of past Vice-Chair, Chair of the Care Services Committee, and member of the Research and Public Policy Committees.
After Jane's passing in 2017, Mark began working closely with The ALS Association to create an ALS scholarship program, which was a new aspect of service for The Association, and a program that was the first of its kind in the United States. In 2019, The Jane Calmes ALS Scholarship Fund was unveiled to provide financial assistance to students pursuing an accredited college degree or vocational certificate, and whose ability to cover the costs is severely compromised as a result of their family's financial burden of ALS.
Mark pledged $1,000,000 towards this initiative in an outstanding demonstration of his commitment to its success, and continues to make financial gifts to the fund every year to ensure as many students as possible are able to receive an award. The ALS Association's goal is to fund as many students as resources allow.
Local Outreach and Jane's Angel Fund
At the same time that Mark was developing the scholarship fund, he brought his attention to the St. Louis region, his hometown, with a desire to impact his local community. Currently, Mark chairs the St. Louis ALS Association's Advocacy Committee. Having firsthand experience with the disease, Mark has a keen understanding of the diverse needs of the ALS community and recognizes that in all cases, there are extraordinary and emergent situations that go unsupported.
With that in mind, Jane's Angel Fund was established, honoring Jane's compassion and care for others. Jane's Angel Fund seeks to reduce the financial burden of ALS by providing financial assistance for expenses that are not traditionally covered by private insurance, Medicare, Medicaid, or other assistance programs. The program has become one of the St. Louis Chapter's most sought-after services, providing transportation for local travel or special trips, caregiver relief, massage therapy, assistance with medical bills, medical equipment, holiday support, and home modification needs.
Ongoing Advocacy
Mark has become an innovative and compassionate philanthropist, personally dedicating over $1.6 million towards ALS programming, and serving as a tireless advocate. He has spoken on behalf of the ALS community with state legislatures and has participated in the Association's Congressional Fly-ins and National ALS Advocacy Days on Capitol Hill.
Mark's work has had a direct impact on people living with ALS and their families, which is evident by the frequent Thank You notes The Association receives personally thanking Mark for making a difference in the lives of beneficiaries of his funds.
This article is based on the incredible Courage Award nomination submitted on behalf of Mark Calmes by his colleagues, Katie McGovern and Jessica Chapman.