Collaboration guides each step of our work, especially in how we fund promising ALS research. For that reason, the Target ALS Corporate Council was created to extend our partnerships across industries, with new perspectives. We are excited to announce this new initiative, alongside Founding Member, Citi, which will provide additional resources toward eradicating the tremendous harm of ALS. As a community, we will realize a world in which patients diagnosed with ALS can live long, quality lives.
Creating Authentic Connections Through Partnership
Partnerships between corporate businesses and nonprofits provide mutual benefits, allowing both sides to grow and work toward their goals. New audiences can be reached through authentic, organizational partnerships, which create stronger connections both internally and externally. In fact, many Fortune 500 corporations maintain dedicated corporate social responsibility departments whose sole mission is to identify charitable agencies with which the company will align1. 
Corporate employees who volunteer or participate with a nonprofit organization outside of the office usually feel an increased sense of loyalty and respect for the corporation they work for. For nonprofits, their message has the opportunity to be elevated into a regional and/or national spotlight, with corporate partners. This helps to expedite their growth, scaling the important work they do for their cause. 
Our Impact on ALS Research
It's clear that there are several benefits for corporations to become involved with nonprofit organizations, but how do you decide who to partner with? It is our unique approach to ALS research that sets our organization apart and makes involvement with the Target ALS Corporate Council an attractive option.
Since our founding in 2013 by former NYC Deputy Mayor Dan Doctoroff, our approach to breaking down existing ALS research barriers and silos has been consistent. We do this through our Target ALS Innovation Ecosystem, which facilitates unparalleled collaboration between researchers from academia and the pharma/biotech industry.
60% of Target ALS funded consortia have led to pharma/biotech industry-based programs

Funded consortia have led to the launch of six clinical trials in just eight years

Our 8 scientific cores have formed a suite of tools and resources that have supported more than 450 research projects

Our ALS Research Model
From the beginning, our approach has dramatically accelerated research results leading to the development of over a dozen therapeutic approaches for ALS. The Target ALS model is proven in making advances in ALS research.
Innovative Research Funding
Revolutionized ALS and biomarker research funding by democratizing support and ensuring the most promising ideas receive funding.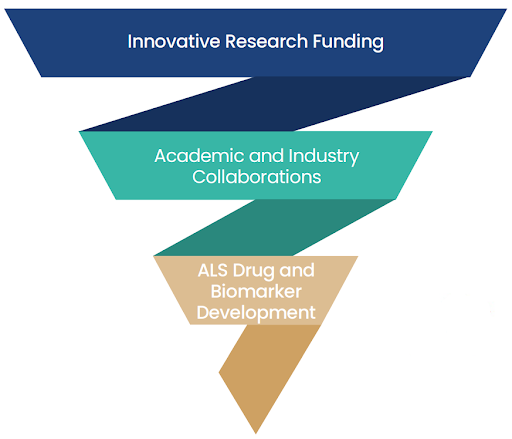 Academic and Industry Collaborations
Incentivized collaboration and provide expedited access to the tools and resources scientists need to advance their work.
ALS Drug and Biomarker Development
Created the conditions to galvanize drug and biomarker development within the pharmaceutical/biotech industry.
Leading the Fight Against ALS
The creation of the Target ALS Corporate Council is an exciting progression of our collaboration model, and we're thankful and appreciative of the team at Citi that has already joined us in the fight against ALS, as a Founding Member. 
Diverse participation from well-known and trusted businesses of all sizes will help us continue the collaboration that we were founded on and will foster even more accomplishments in ALS research in the coming years. 
To learn more about the Corporate Council, contact us today.
SOURCES
1. "Advantages for Corporations Sponsoring Charitable Organizations." Chron, https://smallbusiness.chron.com/advantages-corporations-sponsoring-charitable-organizations-503.html