Scientifically Reviewed by Mercedes Prudencio PhD. | Understanding the Science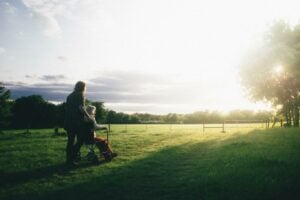 As people age, they are increasingly prone to developing specific health issues. Amyotrophic Lateral Sclerosis (ALS) is one condition that becomes more common in the late stages of life. Most patients with ALS are between 40 and 70 years old.1 Learning about ALS in elderly patients could help caregivers, and family members, give their loved ones more support, dignity, and comfort.
Understanding ALS in Elderly Patients
ALS is a progressive condition that affects the nervous system.2 It has a similar incidence to multiple sclerosis and is five times more common than Huntington's disease.1 The effect of ALS on the brain and spinal cord results in loss of muscle control and other particular symptoms that significantly impact the quality of life for the individual. Known also as Lou Gehrig's disease, ALS commonly begins with these symptoms:2
Muscle spasms
Limb weakness
Slurred speech
Doctors have yet to figure out why some patients get ALS while others do not.3 What they do know is that because it slowly impedes voluntary muscle movements that are essential to speak, eat, breathe, and perform other vital activities, this condition is often fatal, especially in elderly patients.2 Research suggests that ALS is behind five out of 100,000 deaths in people over 20 years of age, most commonly affecting those over the age of 60.1
Although the late onset of ALS in elderly patients is more common than people think, the disease often goes unrecognized for longer in the older population.4 It is not unusual for patients, family members, and healthcare providers to confuse general weakness and other early ALS symptoms for recurrent problems common with advanced age.
What Causes ALS in Older Adults?
Research to determine the causes of ALS in elderly patients is ongoing. The scientific community is continuously trying to identify the factors that may increase or decrease the likelihood of developing this condition. However, the evidence seems to hint that genetics and some environmental aspects may be the culprits of motor neuron deterioration.
In 1993, researchers discovered that familial ALS cases can result from mutations in the SOD1 gene.7 Since then, over a dozen additional genetic mutations have been identified. Some of these studies suggest that changes in RNA processing and defects in the structure and shape of motor neurons may impact ALS-related motor neuron deterioration.6
How Fast Does ALS Progress in the Elderly?
The rate of progression of ALS in elderly patients varies from one person to another. Unfortunately, there is no proven method of predicting how quickly it will evolve in a specific individual, and even staging the disease is often complicated.
The MDA-ALS Center of the University of Pittsburgh, for example, recommends ALSFRS, a functional rating scale to assess bulbar, fine motor, gross motor, and breathing functions.7 When combined with forced vital capacity (FVC) measurements, this approach can help predict and gauge progression more accurately. 
In general, patients over 80 years old with lower-than-average body weight and bulbar and breathing dysfunction will do much worse after being diagnosed than those with different characteristics.
ALSFRS and FVC scores tend to decrease about 20% each year. However, progression may be faster, especially if ALSFRS decline more than 0.5 points per month and breathing declines more than 3% per month.8
What Are the Late Symptoms of ALS in Senior Citizens?
A survey conducted on caregivers reported that some of the most common symptoms during the late stage of ALS in elderly patients are:9
Difficulty communicating
Insomnia
Shortness of breath
Discomfort
Frequent and severe pain
As previously discussed, symptoms progress at a different pace for each patient. Yet, during the final stage of the disease, geriatric patients may not be able to get out of bed or move on their own. They could also lose weight quicker than usual and have difficulty breathing. Because of the rapid decrease in physical capabilities, depression and anxiety are common.3
What to Expect with the End Stages of ALS
ALS is known for affecting the muscles that control the respiratory system. Consequently, the most common cause of death for people with ALS is respiratory failure. To prevent this, some people in the end stages of the disease could permanently need ventilatory support.2 Other patients may choose to undergo a tracheostomy to facilitate full-time respirator use.2
Further signs that may indicate the patient is in the advanced stage of ALS are:5
Constantly dropping items and tripping
Experiencing frequent muscle cramps and twitches
Having difficulty communicating
Laughing or crying uncontrollably
Additionally, while most patients retain their cognitive capabilities, others could experience memory issues and have difficulty making decisions.2 This could eventually result in a dementia diagnosis.
Because of how challenging it becomes to swallow for people with ALS, they can also develop malnutrition and dehydration. Moreover, they are at a higher risk of getting pneumonia caused by food and liquids reaching their lungs. The use of a feeding tube could help reduce these problems.2
How to Support Elderly Loved Ones with ALS
It is always difficult when a loved one gets diagnosed with a fatal condition. However, there are many ways people with ALS can manage their symptoms to improve their quality of life. Caregivers, especially if they are close to the patient, play an essential role in maintaining patient's comfort from the early stages of the disease.
There are many actions caregivers of ALS patients can do to be present and helpful. It could be as simple as offering to run errands or driving them to their medical appointments or therapy sessions.
Emotional support is vastly needed and appreciated after an ALS diagnosis. Family members could always lend an ear to patients with ALS to express how they feel or get their minds off of the situation for a little while.
It is vital to let ALS patients know they are not alone. However, caregivers and family members need to remember that, behind the ALS diagnosis, their loved one is still the same person and can make their own decisions regarding treatment options and the help they may need as the condition progresses.
Detecting ALS in Seniors
Detecting ALS in elderly patients sooner could noticeably impact a person with ALS and their quality of life. Additionally, starting treatment at the early stages could slow down the disease progression and increase life expectancy for the individual.
At Target ALS, our goal is to live in a world with fewer ALS-related casualties. We invest our time and resources in battling the disease through research and innovation. If you want to learn more about what we do and contribute to our mission, visit our site today.
SOURCES
2. "Amyotrophic lateral sclerosis (ALS) – Symptoms and causes." Mayo Clinic, 22 February 2022, https://www.mayoclinic.org/diseases-conditions/amyotrophic-lateral-sclerosis/symptoms-causes/syc-20354022. Accessed 11 March 2022.
3. "How to Support Your Elderly Loved One After an ALS Diagnosis." Cherished Companions Home Care, 17 May 2018.
4. "Late age onset of amyotrophic lateral sclerosis is often not considered in elderly people." PubMed, https://pubmed.ncbi.nlm.nih.gov/29148035/. Accessed 11 March 2022.
5. "ALS and Life Expectancy in Seniors." Landmark Senior Living, 2 January 2019, https://landmarkseniorliving.com/als-and-life-expectancy-in-seniors. Accessed 11 March 2022.
6. "Amyotrophic Lateral Sclerosis (ALS) Fact Sheet | National Institute of Neurological Disorders and Stroke." National Institute of Neurological Disorders and Stroke, https://www.ninds.nih.gov/Disorders/Patient-Caregiver-Education/Fact-Sheets/Amyotrophic-Lateral-Sclerosis-ALS-Fact-Sheet. Accessed 11 March 2022.
7. "Mutations in Cu/Zn superoxide dismutase gene are associated with familial amyotrophic lateral sclerosis." PubMed, 4 March 1993, https://pubmed.ncbi.nlm.nih.gov/8446170/. Accessed 11 March 2022.
8. "Frequently Asked Questions | MDA-ALS Center | University of Pittsburgh." MDA-ALS Center, https://www.alsclinic.pitt.edu/patient-issues/frequently-asked-questions. Accessed 11 March 2022. Ganzini, Linda, et al.

9. "The final month of life in patients with ALS." Neurology, American Academy of Neurology, 13 August 2002, https://n.neurology.org/content/59/3/428. Accessed 11 March 2022.