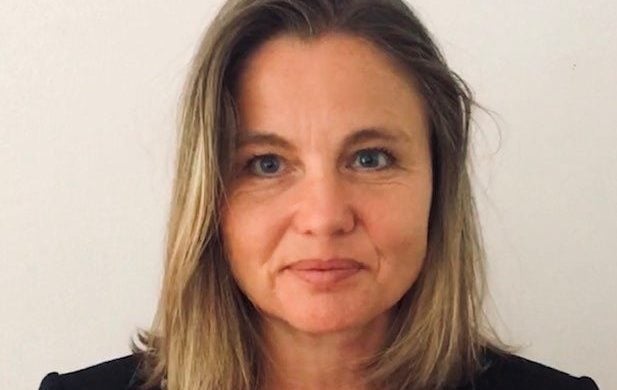 Earlier this month, Target ALS and The Association for Frontotemporal Degeneration (AFTD) announced six teams who will receive a portion of $5 million in funding for projects targeting the discovery of treatments and biomarkers* for ALS and FTD. Though FTD represents a rare form of dementia, its genetic causes and biological mechanisms overlap with those of ALS.
Thanks to this initiative, some of the brightest minds in neurodegenerative research will collaborate as newly formed consortiums made up of scientists from academia and the pharmaceutical/biotech industry, a required step to receive funding through the Target ALS Innovation Ecosystem.
Target ALS recently spoke with Dr. Sophie Parmentier-Batteur, Director in Neuroscience Discovery at Merck — one of the collaborators whose project was selected to receive funding — to hear more about their newly formed team's work. Titled "Small Molecule Screen to Identify Selective Inhibitors of Aberrant TDP-43 Biocondensates in a Disease-Relevant Model," this team's research will use innovative model systems based on abnormal TDP-43 liquid-liquid-phase separation build-up to identify new drugs that inhibit this pathological process. Identification of such inhibitors could represent a novel therapeutic strategy for the majority of ALS and a significant number of FTD patients for whom TDP-43 pathology could be involved in the progression of the disease.
[*Biomarkers are an invaluable evaluation tool for researchers, providing a roadmap to measure disease progression and guide drug development. They have helped to inform lifesaving treatments for many of the world's most pervasive diseases, including cancer and cardiovascular disorders. It is anticipated that when discovered, biomarkers will have a similar catalyst effect for ALS and FTD research.]
Target ALS:
Congratulations on being named a grantee in the Target ALS/AFTD partnership. Talk to us about what motivated your team to apply for funding. What inspired the project and what do you hope to learn from it?
Sophie:
I've been interested in this Target ALS/AFTD industry-driven consortia for a long time. I have been attending the Target ALS annual meetings and following some of the success stories resulting from its grantees' work. I guess I was waiting to get the right project before submitting a proposal. 
Recently, there was some very interesting work from the academic labs of Chris Donnelly [of University of Pittsburgh] and Jim Shorter [Professor of Biochemistry and Biophysics, Perelman School of Medicine, University of Pennsylvania]. They described new models inducing the formation of aberrant TDP-43 biocondensates and pathological aggregates that I thought we could use to screen a selected compounds library and explore if a small molecule approach could inhibit this type of mechanism.
Target ALS:
There's been much discussion around TDP-43 in the last few years. What are you hoping to learn out of this evaluation, and how do you feel your research is different from other research that's occurred to date around TDP-43?
Sophie:
What we know for sure from our preclinical in vitro and in vivo models is that TDP-43 is toxic. However, it is still unclear whether loss of function through nuclear clearance or gain of function due to cytoplasmic accumulation, or both, are involved in the disease. Recent findings suggest that TDP-43 protein has a high propensity to form in the cytoplasm of these biocondensates and this is a critical but reversible step to the production of toxic TDP-43 aggregates. Targeting the formation of these biocondensates seem to be a way to address TDP-43 toxicity with a novel therapeutic strategy.
Target ALS:
How would you explain what executing a small molecule screen means in layman's terms?
Sophie:
A screen means using a library of compounds. And in this case, we're going to design a specific library by selecting compounds that have been linked to TDP-43 toxicity or biocondensates based on literature and public databases. But we are also going to perform an in silico screen [using computer modeling] to identify potential TDP-43 binders. We're going to test this selective library of compounds in two innovative assays [as noted below] that enable us to study TDP-43 biocondensate formation in a more reliable model system than was possible before.
One is a biochemical assay, so it's looking directly at the protein to undergo liquid-liquid-phase separation and aggregation under controlled conditions. This allows us to identify compounds that have a direct effect on TDP-43 aggregation mechanism. In parallel, we're going to evaluate this compound's library on the formation of TDP-43 biocondensates and toxicity using a cellular model system. This will be more of a phenotypic evaluation since these compounds could directly or indirectly modulate mechanisms that lead to TDP-43 aggregation. 
Target ALS:
How does this fit into your larger body of work?
Sophie:
In my group, we focus on proteinopathies [structurally abnormal proteins]. Abnormal protein homeostasis mechanisms that lead to tau, alpha-synuclein and TDP-43 pathology are involved in many neurodegenerative diseases and are as well great targets for therapeutic strategies. 
Target ALS:
Was there a particular interest around ALS and FTD within your work with proteinopathies?
Sophie:
There is certainly interest in ALS and FTD. These diseases are a major unmet medical need, and patients are waiting for treatments. I am also looking at the evolution of the number of phase I and even phase II clinical trials. I think it's promising. It means that companies/academic labs are investing and exploring, and so the research community is learning more about these diseases.
We need to learn more from the disease and clinical trials that provide important information about the history of the disease and the biomarkers that are associated with the disease's progression. Getting this information is crucial for our understanding on how we should be conducting these trials. It's great to have good targets and therapeutic strategies, but if we're not able to test the strategies correctly in the clinic, we're not going to be able to make new drugs.
Target ALS:
That's great. Just one more question… our model of innovation, and collaboration through academic/pharma partnerships is obviously at the core of what we do at Target ALS. Do you feel like over the last few years that this focus on collaboration has helped accelerate ALS research?
Sophie:
It's certainly added a lot. When I started to work with Target ALS, I was invited to attend the annual meetings. It was a great opportunity to be introduced to the experts in ALS research from both the academic and industry sectors. Talking with other scientists involved in ALS research and understanding their findings has helped me to focus on ALS drug discovery and increase the momentum of our research in a short period of time.