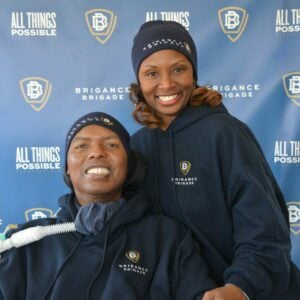 An ALS diagnosis takes a lot from a person and their circle of family and friends. From a shortened life span to excessive costs of care, ALS often takes away more than many can give.
But in 2007, when O.J. Brigance, a former Baltimore Ravens linebacker, received his life-changing ALS diagnosis, he and his wife Chanda decided to give.
Within a year, the pair had fully established The Brigance Brigade Foundation to help other pALS (persons with ALS), their families, and caregivers manage costs associated with ALS. In the years since, the Foundation has made huge impacts in supporting the ALS community, from funding needs for pALS and cALS (caregivers of ALS) to resources like support programs and even a children's book.
After the official diagnosis, the Brigances took time to grieve and process the news, but quickly snapped into action when they made the courageous decision to "live while they were living," and wanted to ensure other families had the opportunity to do the same.
Their priority was The Brigance Brigade Foundation, which has raised over a million dollars in needs for ALS patients, such as paying for in-home caregiving, purchasing wheelchairs and speaking devices, helping with copays, and building ramps to keep pALS from becoming homebound – a common challenge many patients face.
According to Chanda Brigance, the couple knew this was the right path for them:
"We had our time on the floor, we had our time in tears and we had our time to process what is going on. You have your time of shock, but pretty rapidly we thought this is something where we can't just sit around. Everyone handles things differently and everyone walks their walk in the way that they see possible for them. We just saw the possible way in which we could help others and be there for others, especially when we began to find out how expensive it is for someone with ALS to just live and try to continue after a diagnosis. It's anywhere from $200,000-$250,000 per year and many people are not in a position to afford those costs."
The foundation relies heavily on the kindness of donors and fundraising events, such as their annual Family Fun Run, which brings out anywhere from 1,500 to 2,000 people to enjoy live bands, Maryland seafood, and family-friendly events and activities. The main event is a 5.7-mile fun run or a 1.57-mile walk – distances affectionately selected to honor O.J. Brigance's signature football number 57.
Of the thousands who attend, there are serious runners, walkers, and participants crossing the finish line in their wheelchairs – no matter who they are, everyone is there with one common goal – helping people LIVE with ALS.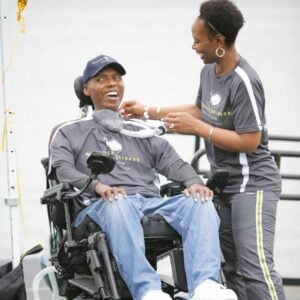 Another fundraising event that supports the foundation's mission is its signature fall event, Soiree with O.J., in honor of O.J.'s birthday.
In addition to the work the Brigances do through the Foundation, they've also started a virtual equipment exchange program to help connect those in the ALS community who have unused equipment with ones in need.
As a caregiver herself, Chanda Minor-Brigance's efforts to provide caregivers the resources and support they need is a cause close to her heart. She started Chanda's Caregiver Corner, a community where cALS can discuss various aspects of their experience with ALS, beyond just the physical ramifications but also the emotional and mental ones.
Most recently, Chanda wrote a children's book titled "Who Cares" and is part of the Chan is a Caregiver brand that follows Chan, a cute and energetic young girl, who is providing care for a little boy living with ALS. It's meant to inspire compassion and generosity and teach children how it's okay to give, it's okay to help, it's okay to be there for someone because, guess what – there's always going to be someone who needs some help.
Learn more about the book and other caregiver resources online at www.ChandaMinorBrigance.com.