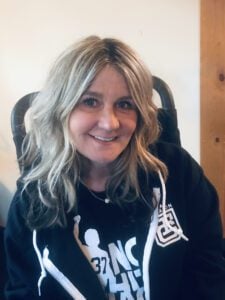 Editors note: Sandy Morris passed away on August 28, 2022. Sandy was a remarkable individual known for her involvement in the ALS community, and her legacy will be remembered by many. This article will remain on our website to honor her memory and has been updated to reflect past tense where relevant.
—
To honor the life and legacy of Broadway legend Rebecca Luker, who passed from ALS in December 2020, the Target ALS Rebecca Luker Courage Award is given to those who have demonstrated a courageous spirit and made a positive impact on the ALS community. The awards are presented in partnership with Mitsubishi Tanabe Pharma Corporation. A selection committee made up of notable Broadway performers and ALS researchers reviewed the nominees for the award based on predetermined selection criteria, including their innovation, collaboration, impact, and reach within the ALS community.
Sandy Morris was diagnosed with ALS on January 6, 2018, and that day marked the beginning of her admirable fight for all people affected by ALS. 
"Sandy is the Swiss Army knife of ALS advocacy and values," says Jan Mattingly, Sandy's friend and fellow ALS advocate. 
Sandy's involvement in the ALS community spanned far beyond being diagnosed with the disease. She spent the years between her diagnosis and her passing working tirelessly to leave the state of ALS in a better place. Her "can do" and "why not" attitudes contributed to collaborative improvements in patient advocacy, research, policies, and drug trials.
Developing the Morris ALS Principles
Sandy helped develop the Morris ALS Principles for the nonprofit, I AM ALS. These principles empower those diagnosed with ALS to take ownership of their diagnosis and work toward a cure with faster, more equitable, and more humane tactics.
The Morris ALS Principles are:
We will protect our intellectual, physical, and financial dignity.

We will be global stewards of our disease and respected partners in the science of treatments and cures.

We will act as trusted peers with clinicians, researchers, and policy-makers.

We will fight for equity in decision-making.

We will lead an end to ALS/MND.
These principles guided Sandy's own battle with ALS. When discussing her diagnosis, she emphasized demanding a seat at the table before decisions are made in drug trial design, research, healthcare policy, or anything else affecting her care. All of this was summed up in her slogan: There will be nothing about us, without us.
Creating Standards for ALS Patient-Centric Trials
Before her passing, Sandy served as the chair of the Clinical Trials Team at I AM ALS. This team works directly with researchers, government agencies, and drug sponsors to ensure access, efficiency, and humaneness of ALS therapy development and approval. They also collect and distribute information regarding clinical trials and the latest research to the ALS community.
One of the biggest accomplishments of the Clinical Trials Team was the creation of the Patient-Centric Trial Design (PaCTD) rating system. This 5-star rating system evaluates trials based on certain design elements in three key areas: optimizing access to investigational therapies, advancing science quickly, and being patient-friendly.
Already, the PaCTD has been used to evaluate over 10 trials.
ALS Advocacy From California to Washington, DC
Sandy's advocacy in the ALS community was far-reaching. She and her family traveled to Washington, DC several times to meet with members of Congress about the urgent need for expanded access program funding. In part because of her efforts, the Accelerating Access to Critical Therapies for ALS Act (ACT for ALS) gained impressive traction and support. 
In fact, the ACT ultimately garnered support from representatives on both sides of the political spectrum and passed unanimously on December 16, 2021. It was signed into law by President Biden on December 23, 2021, and its passage was one of Sandy's proudest achievements. 
Sandy continuously fought for legislation related to rights for ALS patients. One of her final projects was working to reform California's medical aid in dying (MAID) laws. She had a lawsuit with the state of California alleging the current MAID laws violated the Americans with Disabilities Act. 
Warrior, Advocate, Disrupter of Norms
Sandy had a broad network of researchers, pharma, regulators, neurologists, and patients/advocates. Her approach iswasunique in that it brought people together to establish new ways of collaborating to infuse patient and caregiver perspectives.
Her willingness to participate in clinical trials and take experimental drugs or placebos to move research along was admirable. Toward the end of her battle with ALS, with very limited physical ability, Sandy remained unstoppable at providing encouragement, support, and practical ideas to those she engaged with.
"I do not want you to focus solely on making me more comfortable while I die. I would greatly prefer that you join me in my fight to live," Sandy said.
Sandy greatly admired Rebecca Luker and we were proud to recognize her with this award.
This article is based on the incredible Courage Award nomination submitted on behalf of Sandy Morris by her friends and fellow ALS advocates, Jan Mattingly and Loren Beth McCormac.