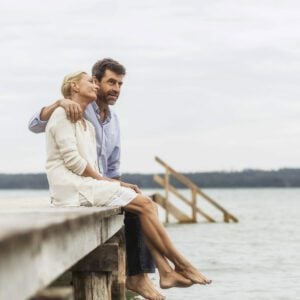 Learning that your friend, family member or life partner has been diagnosed with ALS can be devastating. Once it sinks in, you'll probably wonder how to best help someone dealing with ALS.
There are all sorts of opportunities, from offering to drive or make a meal to connecting with care team members to ensure your loved one is receiving the best possible care.
Tips for friends and family
You don't have to be the primary caregiver to help someone coping with ALS. There's a lot you can do, even from afar.
Be present. Listen and let them know you're there to talk — when they are ready. If you live out of town, you can still be present. Call just to chat. Schedule a video call. Send the occasional card or letter, email or text.
Offer to help and be specific. Instead of a general "Let me know if I do anything," ask what they need done. Better still, suggest something specific, such as deliver or cook a meal, pick up books from the library, drive to the doctor, or even go out to lunch.
Educate yourself. Get as much information about ALS as you can. The more you know, the better prepared you will be in providing care, support and advocacy.
Be the friend or relative you always were. An ALS diagnosis is devastating, but your loved one is still the same person. Don't condescend. Your friend hasn't suddenly transformed from a person into a helpless patient.
Don't "baby" your friend. People with ALS are the best judge of what they can do. Ultimately, they will need help with every task. But let them decide.
For caregivers
Caregivers can help the person with ALS manage the disease both as a caregiver at home and as an advocate with the health care team.1,2 When working with the various members of the care team, make sure they understand your role and include you in the care plan.3
Track and attend doctor appointments: This will enable you to fully understand the care plan and your role in it.
Help monitor medications: Review the list of medicines with the care team to confirm the right medication at the right dosage is being taken at the right time.
Know the options: Understand what sorts of therapy and assistance are available at home.4,5 For instance:
Physical therapy helps a person with ALS maintain strength and flexibility. It can often take place at-home activities. If you plan to assist with the exercises, be sure to talk to the physical therapist about how you can help. Otherwise, you may do more harm than good.
Occupational therapists help people with ALS improve their quality of life and maintain their independence for as long as possible. This may involve a customized exercise program. The occupational therapist can suggest aids and adaptive equipment or demonstrate different ways to do a particular task. They can also educate caregivers so that they can better support the patient.
Skilled nursing visits can help you take care of your loved one in the home, and they are often covered by insurance. These providers can help with activities of daily living such as bathing and dressing, making sure your they're taking their medicines correctly, and monitoring for pain, skin breakdown, breathing problems and other issues that need attention.
These and other services can improve the quality of life and keep your loved one as comfortable and active as possible, but because there is no cure for ALS, the disease will only become worse. They will eventually lose their functional independence.
As ALS advances, muscle weakness and atrophy spread throughout the body, impairing mobility and making speaking, breathing and swallowing even more difficult — even impossible. Eating becomes exceptionally difficult, and eventually the individual will require a feeding tube. Likewise, breathing without assistance becomes a challenge, and the person with ALS may require a ventilator. (Most ALS deaths are the result of respiratory failure; however, medicine can alleviate the discomfort, anxiety and fear caused by respiratory difficulty.) Keep in mind that some people with ALS decide they don't want to rely on mechanical ventilator or on feeding tubes for nutrition and hydration.
As the disease enters the later stages, it may be time to move to hospice care.
Hospice can help with the transition: Whatever the decision, hospice care can help them die peacefully. Palliative care can control pain and help manage symptoms, and the hospice team provides emotional and spiritual support not only for the person with ALS, but also their family.6
For the spouse or partner
As the partner/partner relationship shifts to patient/caregiver, it can put a tremendous strain on the marriage or relationship. One way to address this, at least early in the disease's progression, is to make sure that each person can contribute to the household.7 For example, maybe your wife can no longer drive or mow the lawn. She may still be able to manage the finances or plan and prepare simple meals.
Research shows that social support and relationship counseling can help people with ALS and their partners cope with sexuality and intimacy changes, too.9 And keep in mind that sexuality and intimacy are important components of most people's lives and can have a significant impact on a person's emotional well-being and outcomes.10,11,12
Care for the caregivers
Because the person with ALS will require more assistance as the condition progresses, the caregiver's burden will grow. It can be overwhelming. But remember that one of the best ways you can help someone with ALS is to stay healthy — mentally, emotionally and physically.
Perhaps the most important thing to remember is don't do it alone. Even if you are the primary caregiver, you shouldn't be solely responsible for helping with every single daily task. The physical and psychological burden of caregiving can lead to an array of problems, including fatigue, exhaustion, sleep problems, a decrease in physical strength, irritability, anger, depression, an inability to concentrate and feelings of isolation.1
Enlist family members and/or friends to take shifts, and as noted above, look into hiring a nurse or aide — insurance may pay for it.
Take care of yourself: Here are suggestions for making sure you are getting the care you need:15, 16, 17
Accept help.
Connect with other ALS caregivers through a support group.
Exercise regularly; it can be as simple as regular walks or yoga.
Read or find other activities where you can be alone with your thoughts.
Treat yourself to a massage, movie, concert, etc.
Plan events with your friends, even if it's as simple as meeting for brunch.
Consider counseling: As we mentioned, depression is common among caregivers.
Notes
www.templehealth.org/about/blog/how-do-you-take-care-someone-with-als
Lewis M, Rushanan S. The role of physical therapy and occupational therapy in the treatment of amyotrophic lateral sclerosis. NeuroRehabilitation. 2007;22(6):451-61. PMID: 18198431.
Krishnan, S. et al.: Coping With Caregiver Burnout When Caring for a Person With Neurodegenerative Disease: A Guide for Caregivers. Archives of Physical Medicine and Rehabilitation 98 (2017) www.archives-pmr.org/article/S0003-9993(16)31291-6/fulltext
alsnewstoday.com/columns/2018/05/09/als-medicare-cover-home-healthcare/
alsnewstoday.com/occupational-therapy/
www.compassus.com/for-caregivers/is-it-the-right-time-for-hospice/end-of-life-care-for-als
www.guideposts.org/caregiving/family-caregiving/spousal-caregiving-5-ways-to-keep-your-marriage-strong
Living with ALS: Sexuality and Intimacy. Massachusetts General Hospital (2021) www.massgeneral.org/neurology/als/patient-education/sexual-intimacy
Galvin, M., Gavin, T., Mays, I. et al. Individual quality of life in spousal ALS patient-caregiver dyads. Health Qual Life Outcomes 18, 371 (2020). doi.org/10.1186/s12955-020-01551-5
The study, "Sexuality and intimacy in ALS: systematic literature review and future perspectives," was published in the Journal of Neurology, Neurosurgery & Psychiatry.
Poletti B, Carelli L, Solca F, et al Sexuality and intimacy in ALS: systematic literature review and future perspectives Journal of Neurology, Neurosurgery & Psychiatry 2019;90:712-719.
alsnewstoday.com/news-posts/2018/12/14/clinicians-should-address-als-patients-sexuality-intimacy-problems/
www.guideposts.org/caregiving/family-caregiving/spousal-caregiving-5-ways-to-keep-your-marriage-strong
Krishnan, S. et al.: Coping With Caregiver Burnout When Caring for a Person With Neurodegenerative Disease: A Guide for Caregivers. Archives of Physical Medicine and Rehabilitation 98 (2017) www.archives-pmr.org/article/S0003-9993(16)31291-6/fulltext
Krishnan, S. op cit
17, www.templehealth.org/about/blog/how-do-you-take-care-someone-with-als