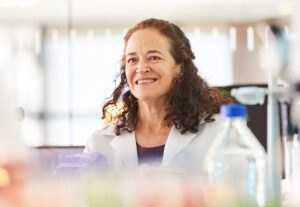 To honor the life and legacy of Broadway legend Rebecca Luker, who passed from ALS in December 2020, the Target ALS Rebecca Luker Courage Award is given to those who have demonstrated a courageous spirit and made a positive impact on the ALS community. The awards are presented in partnership with Mitsubishi Tanabe Pharma Corporation. A selection committee made up of notable Broadway performers and ALS researchers reviewed the nominees for the award based on predetermined selection criteria, including their innovation, collaboration, impact, and reach within the ALS community.
Dr. Merit Cudkowicz is the Director of the Sean M. Healey & AMG Center for ALS, Chief of Neurology at Massachusetts General Hospital, and the Julieanne Dorn Professor of Neurology at Harvard Medical School. With such an impressive resumé, it's no surprise that Dr. Cudkowicz was nominated for, and is one of the inaugural winners of, the Target ALS Rebecca Luker Courage award. 
Dr. Cudkowicz was nominated by one of her clinical and research mentees who describes her enthusiasm for research as unrivaled and her optimism as infectious. Throughout her involvement with prestigious research groups, she has cared for thousands of people with ALS, providing each one with individualized attention so she can direct them to the most relevant therapies and research opportunities available for them.
A Passion for Neurological Research
The Neurological Clinical Research Institute (NCRI) at Mass General is an academic research organization composed of innovative researchers experienced and passionate about designing, developing, facilitating, and conducting multicenter clinical trials in neurological diseases. The goal of NCRI is to develop new treatments for the patients under its care and patients around the world. 
Dr. Cudkowicz co-founded the NCRI along with Dr. Steven Greenberg in 1994 to conduct clinical research on neurological disorders. In collaboration with the Mass General Biostatistics Center, the NCRI has an impressive record of rapidly and efficiently leading small and large multi-center, international clinical trials.
The NCRI leverages subspecialty experience from the Mass General Department of Neurology's 200+ clinical faculty to provide the scientific leadership and collaborative approaches required to meet any complex challenges presented. The faculty at NCRI is world-renowned and Harvard Medical School-based. These individuals challenge conventional approaches and explore innovations that reach patients with efficiency.
Advancing New ALS Treatments
From the beginning of her career, Dr. Cudkowicz has worked tirelessly to create and make accessible ALS research trial opportunities. Early on in her career, Dr. Cudkowicz helped build and lead the Northeast ALS (NEALS) Consortium. 
Founded in 1995 with 9 academic clinical centers in the New England region, NEALS has grown to over 130 research centers committed to performing research in ALS and MND. The mission of NEALS is to translate scientific advances into new treatments for people with ALS and MND as rapidly as possible by functioning as an academic research consortium, a contracted research organization, and a resource tool for the ALS community.
Expanding Treatment Access for ALS Patients
After her time spent maturing the network of research sites at NEALS, Dr. ​​Cudkowicz stepped aside from its leadership to begin the Sean M. Healey Center for ALS at Mass General. The Healey Center for ALS is on a quest to discover life-saving therapies for approximately 500,000 people around the world who are affected by ALS. The Healey Center has a large, multidisciplinary ALS clinic team that collaborates to provide the best treatments available to people with ALS. 
At the core of its collaborative efforts is the HEALEY ALS Platform Trial, run in partnership with the NEALS Consortium. This first-of-its-kind trial for ALS is leveraging input from ALS scientists and clinicians, industry partners, regulators, and people living with ALS across the globe. 
In part due to Dr. Cudkowicz's involvement, the trial came together with rapid speed, has already met its enrollment goal, and is set to outpace its planned productivity already. Part of what makes this trial so innovative is its patient-friendly efficiency: fewer trips to the clinic, fewer patients exposed to the placebo, and an extension study that ensures all participants have an opportunity to receive the study's focus treatment.
Dr. Cudkowicz is actively working to initiate companion-expanded access programs to help those who do not qualify for the trial to gain exposure to promising therapies currently in testing.
An Inspiring Researcher and Clinician
Dr. Merit Cudkowicz's contributions to the fight against ALS are numerous and as a result, it would not be an overstatement to say her impact has been felt by many researchers, advocates, and people with ALS around the globe. Researchers seek her out to work with her because of her track record of success, her commitment, and her invaluable experience as a leading researcher.
Over the years, Dr. Cudkowicz has advised on hundreds of research projects aimed at fighting ALS. She has been the Principal Investigator for dozens of trials. She has inspired young investigators, launched careers, supported startup companies, and forged a union of people fighting against ALS. 
Above all, she has continuously surrounded ALS patients with hope. For these reasons, she is greatly deserving of the 2022 Rebecca Luker Courage Award.
This article is based on the incredible Courage Award nomination submitted on behalf of Merit E. Cudkowicz by her research mentee, James D. Berry.