Currently, there is no single diagnostic test to confirm or rule out amyotrophic lateral sclerosis (ALS) in the earliest stages of the disease.1 Doctors must first rule out other conditions with similar symptoms and test for neurological symptoms to confirm an ALS diagnosis. Research is underway to develop a diagnostic test to identify ALS earlier, so interventions begin earlier.
Promising new research shows a muscle biopsy could potentially identify at-risk patients earlier in their disease.
What is a Muscle Biopsy?
Muscle biopsies,2  are frequently performed to determine if a patient has ALS, and are not typically examined until later in the course of the disease. During a standard biopsy, a needle is inserted into the patient's muscle tissue to extract a sample for analysis.
What is an ALS Muscle Biopsy?
An ALS muscle biopsy is used to differentiate between multiple forms of ALS, which can be caused by different mutations. Nerve bundles that are present in small slices of tissue obtained within a biopsy can be witnessed with a stain. Muscle biopsies of ALS patients show degeneration of muscle tissue over time,3 in ways that are different from other degenerative diseases. For instance, ALS patients tend to show more severe myopathic changes over a shorter period of time. Patients with autosomal muscular atrophy or spinal/bulbar atrophy show less muscle fiber loss over a prolonged period of time. These biopsies traditionally rule out or differentiate ALS from other diseases such as multiple sclerosis (MS) or muscular dystrophy.
ALS muscle biopsy shows atrophy of the nerve fibers, necrosis, and mitochondrial abnormalities. Studies have demonstrated that inflammation related to neurogenic deterioration was also present and did not appear in the control group or in biopsies of individuals with other neuromuscular diseases. Researchers suggest that this neurogenic atrophy may be unique to ALS patients.2 The use of muscle biopsy to diagnose ALS could be further improved if a unique ALS-associated molecular biomarker could be identified through muscle biopsy.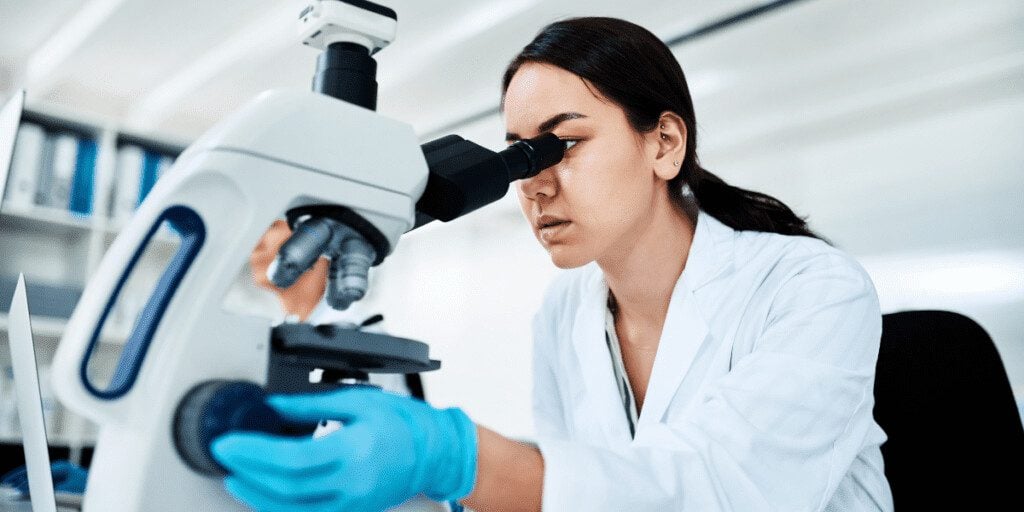 Muscle Biopsy Testing for TDP-43 Markers
A candidate biomarker protein, known as TDP-43, is an RNA-binding protein that is critical for regulating how a cell processes its RNA. In healthy cells, TDP-43 is mostly found in the nucleus, however in ALS and frontotemporal dementia (FTD), unwanted clumps of TDP-43 are found mislocalized in the cytoplasm of the affected neurons. When stuck in the cytoplasm, TDP-43 can no longer perform its important RNA regulatory functions and the supply of properly processed RNAs in the cell is affected.
One example of an abnormal RNA caused by TDP-43 misregulation is the UNC13A mRNA. UNC13A is a gene that codes for a protein that controls neurotransmitter release, which affects neural connections. Researchers4 determined that ALS-associated mutations in the UNC13A gene disrupt the binding of TDP-43 to UNC13A mRNA, and they further showed that loss of TDP-43 function leads to unwanted changes in the UNC13A mRNA sequence.
Another group of researchers5 hypothesized that TDP-43 accumulation within intramuscular nerve bundles might be detected with a muscle biopsy. They studied muscle biopsies in 10 deceased individuals confirmed with ALS at the time of death and found they had TDP-43 protein accumulations within the intramuscular nerve bundles, while a control group did not. The researchers then examined the biopsies of 450 patients and screened out all patients with a known neuromuscular disease, including hereditary diseases or pathogenic variants of ALS-causative genes. They found 114 patients who did not have muscle disease detectable by biopsy or another exam, with no family history of ALS or other degenerative diseases.
The researchers caution that this is a preliminary finding and warn that no genetic studies were conducted with the control groups to screen out possible related conditions. However, these are some of the first studies to demonstrate a potential diagnostic marker for ALS that could be found by biopsy before the disease manifests.
Potential for Future Diagnoses
Currently, if a patient exhibits ALS symptoms, they will undergo a panel of tests to rule out other diseases or track the disease progression. These tests can be inconvenient, invasive, and costly, especially if repeated over time.6 These tests include:
Electromyography (EMG). EMG tests the activity of muscles when they contract and relax. For this test, an electrode inserted through the skin into the muscles stimulates a small electric charge and measures the conductivity of the nerves.
Magnetic Resonance Imaging (MRI). An MRI can rule out spinal cord damage, nerve damage, tumors, or herniated discs that may be causing nervous system symptoms.
Blood and Urinalysis. Laboratory tests assist in evaluating other possible illnesses that could cause similar symptoms.
Nerve Conduction Study. A study designed to measure the nerves' ability to conduct impulses to the muscles and receive sensation.
Lumbar Puncture (Spinal Tap). A spinal tap may help to rule out meningitis or other pathological conditions.
Since no single test can accurately diagnose ALS, a doctor must build a diagnosis through multiple lines of evidence from these and other tests. Finding a unique diagnostic marker that can be monitored by a single procedure, such as a muscle tissue biopsy, would be a tremendous advancement in ALS diagnosis.
Research Core Facilities such as the Target ALS Human Postmortem Tissue Core are providing key support for leading edge studies that can help make future diagnosis more straightforward. This research core involves the acquisition and dissection of tissue as well as processing, storage, and metadata compiling that is optimized for ALS research.
Early Diagnosis Enables Early Care
The delay in diagnosing ALS means that patients do not begin therapy or attempt to slow the progression of the disease until after the onset of symptoms. As was noted in the TDP-43 muscle biopsy study, it might be possible to identify at-risk patients before any symptoms appear through muscle biopsies.7
Muscle biopsies may provide a new avenue to earlier diagnosis and intervention for ALS patients.
Frequently Asked Questions
Does a muscle biopsy show muscular dystrophy?
Muscle biopsies are helpful when diagnosing muscular dystrophy by allowing physicians to assess myopathic patterns in muscle tissue, reduced or absent proteins within the tissue, and reduced or absent dystrophin in muscle cells.
What diagnostic test confirms ALS?
No single diagnostic test is available for ALS. Currently, a combination of MRI of the head, neck, and spine, electromyography (EMG) for nerve conduction, and blood and urine tests are the tests assessed for a diagnosis. Gene testing and lumbar punctures may be necessary to confirm or rule out other conditions.
What muscles are affected first with ALS?
The voluntary muscles of the arms, hands, and jaws are more commonly affected first. Patients usually notice weakness in their hands, difficulty speaking or chewing, or tightness in one or more limbs.
SOURCES
1. Technology Networks. (2022, June 22). Muscle Biopsy Could Prove Effective as Early ALS Diagnosis. Neuroscience from Technology Networks, https://www.technologynetworks.com/neuroscience/news/muscle-biopsy-could-prove-effective-as-early-als-diagnosis-362895 Accessed 6 July, 2022.
2. Muscle Biopsy. (2019, August 14). Johns Hopkins Medicine, https://www.hopkinsmedicine.org/health/treatment-tests-and-therapies/muscle-biopsy Accessed 6 July, 2022.
3, Al-Sarraj, S. (2014, December 14). Mitochondrial abnormalities and low grade inflammation are present in the skeletal muscle of a minority of patients with amyotrophic lateral sclerosis; an observational myopathology study – Acta Neuropathologica Communications. BioMed Central, https://actaneurocomms.biomedcentral.com/articles/10.1186/s40478-014-0165-z Accessed 6 July, 2022.
4. Branca, M. (2022, February 25). ALS and Frontotemporal Dementia Both Linked to Common Variants. Inside Precision Medicine, https://www.insideprecisionmedicine.com/topics/patient-care/neurological-disorders/als-and-frontotemporal-dementia-both-linked-to-common-variants/ Accessed 6 July, 2022.
5. Kurashige, T., MD PhD. (2022, May 23). TDP-43 Accumulation Within IntramTDP-43 Accumulation Within Intramuscular Nerve Bundles of Patients With Amyotrophic Lateral Sclerosisuscular Nerve Bundles of Patients With Amyotrophic Lateral Sclerosis. Amyotrophic Lateral Sclerosis | JAMA Neurology | JAMA Network, https://jamanetwork.com/journals/jamaneurology/fullarticle/2792745 Accessed 6 July, 2022.
6. Amyotrophic lateral sclerosis (ALS) – Diagnosis and treatment – Mayo Clinic. (2022, February 22), https://www.mayoclinic.org/diseases-conditions/amyotrophic-lateral-sclerosis/diagnosis-treatment/drc-20354027 Accessed 6 July, 2022.
7. Hiroshima University. (2022, June 21). Muscle biopsy test for biomarker could lead to earlier diagnosis of ALS. ScienceDaily, https://www.sciencedaily.com/releases/2022/06/220621184506.htm Accessed 6 July, 2022.