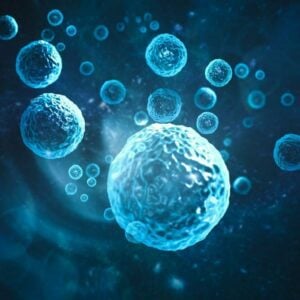 ALS typically begins either as weakness in the limbs, called limb (or spinal) onset, or difficulty in speaking or swallowing, termed bulbar onset. Limb onset is the most common, present in about 66% to 75% of ALS patients.1 
In bulbar ALS, the muscles involved in breathing, speaking, and swallowing are usually affected first. "First" is important in this context: Eventually, everyone with ALS will experience bulbar symptoms. 
What is Bulbar ALS?
Bulbar onset ALS is a form of ALS that mainly affects the motor neurons within the bulbar region of the brainstem. With this condition, functions like speech, breathing, and swallowing are impacted. Bulbar ALS represents the minority of ALS cases, with the majority being sporadic.
Here are six things to understand about bulbar ALS:
1. It Impairs Swallowing
Dysphagia — difficulty in swallowing — is a common symptom of bulbar ALS. Among the symptoms are:2,3 
Frequent coughing or choking on food while swallowing
A gurgling voice after swallowing

Foods or liquids spilling out of the mouth

A buildup of saliva in the mouth

Food coming out the nose

Regurgitation 

Shortness of breath while eating
Difficulty swallowing increases the risk of aspiration — food or liquid going into the windpipe. This can cause infections and other complications. 
Reduced caloric intake is a significant issue. Dysphagia, obviously, makes eating difficult. But that's not the only issue: People with ALS burn calories at a faster rate than average. Fatigue can also lead to eating less food and less often. As a result, these individuals can lose weight rapidly and become malnourished.4 Ultimately, eating may be impossible, and that's when a feeding tube will be needed. 
2. It Affects the Ability to Speak
The same bulbar motor deterioration that impairs swallowing also makes it difficult to speak. Speech impairment (dysarthria) is another early symptom of bulbar-onset ALS. 
ALS leads to the degeneration of the nerve cells responsible for bringing messages from the lower parts of the brain (bulbar region) to the muscles of the lips, tongue, soft palate, jaw and voice box. Eventually, the muscles become weak and tight, limiting tongue, lip and/or jaw movement.5 
Perhaps the most obvious result is slow, slurred, and difficult-to-understand speech. A person with bulbar ALS will have poor articulation and difficulty forming words. Other symptoms include:6,7,8 
Difficulties managing the voice's pitch, tone and rhythm.

Nasal-sounding voice

Hoarse or strained voice

Decrease in vocal range or loudness

Changes in speech patterns.
No matter how the disease begins, most (80% to 95%) people with ALS will, at some point, experience these symptoms to the point that they won't be understood without some sort of assistance.9
You can learn more about the ways ALS affects speech here.
3. It's More Aggressive
Bulbar onset ALS tends to progress faster than limb-onset ALS. That means that these people with ALS experience a faster decline, and shorter survival — often less than two years.10
One study found that cognitively healthy people with ALS have brain damage that reflects the type of ALS they have. Those with bulbar ALS have more widespread brain tissue loss. This could explain why bulbar ALS is more aggressive.11
4. Bulbar Onset is Diagnosed Sooner
Bulbar ALS is diagnosed earlier than limb-onset ALS.12 One study suggests that dysarthria symptoms may appear up to three years before the diagnosis of bulbar-onset ALS.13
5. It May Be More Common in Women
Although ALS tends to affect more men than women, bulbar-onset appears to be slightly more common in women.14,15
6. Symptoms Vary by Individual
Each patient may experience bulbar-onset ALS differently. In people with bulbar ALS:16,17
Dysarthria — with eventual loss of speech — occurs nearly 95% of the time

Dysphagia occurs in roughly 85% of patients

Involuntary tongue twitching (tongue fasciculation) occurs nearly two-thirds of the time

Vocal cord spasms occur about 20% of the time. 
Bulbar ALS may be aggressive, but people with ALS and their loved ones can take steps to improve the quality of life and mitigate some of the symptoms. To learn more about this — and about ALS in general — visit www.targetals.org/news-stories/.
Sources
1 alsnewstoday.com/forms-of-als/
2 alsnewstoday.com/als-symptoms/difficulty-swallowing/
3 Green JR, et al. Bulbar and speech motor assessment in ALS: challenges and future directions. Amyotroph Lateral Scler Frontotemporal Degener. 2013;14(7-8):494-500. doi:10.3109/21678421.2013.817585
4 www.als.org/blog/11-ways-maintain-nutrition-people-als
5 Green JR, et al. Bulbar and speech motor assessment in ALS: challenges and future directions. Amyotroph Lateral Scler Frontotemporal Degener. 2013;14(7-8):494-500. doi:10.3109/21678421.2013.817585
6 https://voicefoundation.org/health-science/voice-disorders/voice-disorders/voice-dysfunction-in-neurological-disorders/amyotrophic-lateral-sclerosis/
7 https://www.als.net/news/science-sunday-limb-and-bulbar-onset-als/
8 https://alsnewstoday.com/speech-problems/
9 Brent JR, Franz CK, Coleman JM 3rd, Ajroud-Driss S. ALS: Management Problems. Neurol Clin. 2020;38(3):565-575. doi:10.1016/j.ncl.2020.03.013
10 Shellikeri S, et al. The neuropathological signature of bulbar-onset ALS: A systematic review. Neurosci Biobehav Rev. 2017;75:378-392. doi:10.1016/j.neubiorev.2017.01.045
11 https://alsnewstoday.com/news-posts/2017/01/23/study-finds-more-extensive-brain-damage-in-bulbar-onset-amyotrophic-lateral-sclerosis-als-patients/
12 Richards, D, et al. Time to diagnosis and factors affecting diagnostic delay in amyotrophic lateral sclerosis. Journal of the Neurological Sciences 417 (2020)
13 Tena A, et. al. Detection of Bulbar Involvement in Patients With Amyotrophic Lateral Sclerosis by Machine Learning Voice Analysis: Diagnostic Decision Support Development Study. JMIR Med Inform. 2021;9(3):e21331. Published 2021 Mar 10. doi:10.2196/21331
14 Zhang, H. et al.: Disease duration of progression is helpful in identifying isolated bulbar palsy of amyotrophic lateral sclerosis. BMC Neurology 21 (2021)
15 Richards, D, et al. Time to diagnosis and factors affecting diagnostic delay in amyotrophic lateral sclerosis. Journal of the Neurological Sciences 417 (2020)
16 Bulbar ALS, AMYOTROPHIC LATERAL SCLEROSIS SOCIETY OF CANADA
17 Shipley, P.Z. Life patterns of family caregivers of patients with amyotrophic lateral sclerosis. https://etda.libraries.psu.edu/catalog/15131